National Institute of Technology Common Entrance Test (NIMCET), Jamshedpur invites applications for admission to Master of Computer Application (MCA) Exam for the academic session 2023 at its Jamshedpur Campus.
NIMCET MCA Exam
National Institutes of Technology (NITs) are Institutions of National Importance Under Ministry of Education, Govt. of India. The NIMCET is a Common Entrance National Level Test, conducted by any of the NITs, for admission in to their MCA programme. The MCA programme is offered by NITs at Agartala, Allahabad, Bhopal, Jamshedpur, Kurukshetra, Raipur, Surathkal, Tiruchirappalli and Warangal. The admission into the MCA programme for the year 2023-24 in above 09 NITs is based on the Rank obtained in NIMCET-2023 only.
Quick Links
National Institute of Technology Common Entrance Test (NIMCET), Jamshedpur Master of Computer Application (MCA) Exam 2023
| | |
| --- | --- |
| Exam Name: | NIT MCA Common Entrance Test |
| Conducting Institute: | National Institutes of Technology |
| Commonly called as: | NIMCET |
| Exam Level: | National Level |
| Stream: | Engineering Entrance Exam |
NIMCET MCA Exam Important Dates
Event
Dates
Release of notification
01 Mar 2023
Release of NIMCET 2023 application form
05 Mar 2023
Last date to apply online at nimcet.in
10 Apr 2023
Edit Window
13 Apr to 17 Apr 2023
NIMCET 2023 admit card release date
01 Jun 2023
NIMCET 2023 Exam Date
11 Jun 2023 (9 am to 11 am)
Release of official answer key
As per NIT Jamshedpur
NIMCET 2023 result announcement
26 Jun 2023
Date of Publication of Result/Scorecard (Tentative)
Monday 26 Jun 2023 (5 pm)
Registration & Choice filling by paying the nonrefundable counselling fees of Rs 1000/-
Thursday, 29 Jun 2023 (10 am) to
Wednesday, 04 July 2023 (5 pm)
First Round of Allotment
Thu, 06 July 2023 (6 pm)
First round of online reporting and partial admission fee payment
Fri, 07 July 2023 to
Mon, 10 July 2023 (till 5 pm)
Second round of Allotment / upgradation
Wednesday , 12 July 2023 (6 pm)
NIMCET MCA Exam Important Dates
NIMCET – Overview
| Aspects | Details |
| --- | --- |
| Name of Exam | NIMCET |
| Full Form of NIMCET | NIT MCA Common Entrance Test |
| Organizing Body | NIT Jamshedpur |
| Full Form of NIT Jamshedpur | National Institute of Technology Jamshedpur |
| Type of Exam | MCA Entrance Exam |
| Level of Exam | National |
| Region | India |
| Official Website | nimcet.in |
| Courses Where Admission is Through NIMCET | MCA Program |
| Colleges Where Admission is Through NIMCET | NIT Agartala, MNNIT Allahabad, MANIT Bhopal, NIT Jamshedpur, NIT Kurukshetra, NIT Raipur, NITK Surathkal, NIT Tiruchirappalli, NIT Warangal |
| Minimum Educational Qualification | As per eligibility criteria |
| Mode of Exam | Online |
| Type of Questions | Multiple choice |
| Number of Questions | 120 |
| Total Marks | 1000 |
| Exam Duration | 2 hours |
| Subjects in Question Paper | Mathematics, Analytical Ability & Logical Reasoning, Computer Awareness, General English |
NIMCET – Overview
What is NIMCET
NIMCET is All India Level Entrance Test for admission to Master of Computer Applications Program (MCA) offered by 11 participating National Institutes of Technology NITs at Agartala, Allahabad, Bhopal, Calicut, Jamshedpur, Kurukshetra, Raipur, Surathkal, Tiruchirappalli (Trichy), and Warangal for the year 2023
Name of the Exam – NIT MCA Common Entrance Test
Common Name – NIMCET
Conducting Body – National Institute of Technology Jamshedpur
Exam Level – Post-graduation
Courses offered – Master of Computer Applications (MCA)
Participating Institutes -11 National Institutes of Technology
Seats
Eligibility Criteria
Indian Nationals securing at least 60% marks in aggregate or 6.5 CGPA on a 10-point scale (55% marks or 6.0 CGPA on a 10-point scale in case of SC/ ST/PwD) in
(i) Any UG program of minimum Three years with Mathematics/ Statistics. as one of the subjects OR
(ii) B.E./ B.Tech. from a recognized University/Institution are eligible to appear for NIMCET-2023.
Conversion of scored marks from CGPA to percentage and vice-versa is not permitted.
Candidates who are appearing for the qualifying examination are also eligible to apply for NIMCET-2023 and such candidates shall have to furnish the proof (in the form of a certificate issued by the Head of institution where the candidate has been studying / has studied) of candidature for appearing in the examinations during the academic year 2023-23 All candidates shall submit the proof of fulfilling the eligibility criteria of NIMCET- 2023 at the time of Counseling/Admission but not later than 15/09/2023 (Friday), failing which their admission is liable to be cancelled by the respective NITs.
Application Process
Candidates must apply for NIMCET-2023 through 'Online' only through official website https://www.nimcet.in/
Candidates have to register on NIMCET-2023 website by creating the login, password as instructed therein and then fill all the details as per the Online Form.
Candidates have to pay the non-refundable Application Processing Fee through the provisions made in the NIMCET-2023 website only before the final submission of the online application form.
All the relevant documents (duly self attested and then scanned) should be uploaded along with the online application form.
After duly filling up the application form and uploading the necessary documents, the candidate should click "Preview the Application", following which a preview of the entire application will be generated for viewing.
After the final submission of the application, a soft copy of the complete application form with unique Application Number will be generated in the downloadable PDF format
Applicants are advised to download and save the soft copy and also keep a hard copy of the application for further references.
Application Fee
For OPEN/OPEN-EWS/OBC Category : Rs. 2,500/-
For SC/ST/PwD Category : Rs. 1,250/-
Online Registration Fee Payment Rules
After the registration, candidate needs to pay the Registration Fee. Only after payment of registration fee, candidate will be allowed to fill the choices.
Online Counselling Registration Process Fee: The candidate must pay a registration fee of ₹1,000/. Candidates, who'll pay the registration fee, will be allowed to fill the choices.
Payment modes
Billdesk will provide EPG Services. Following modes of payment will be available-
Debit Card
Credit Card
Net Banking
Selection Procedure
Admission through NIMCET-2023
The candidates who appeared and obtained marks in NIMCET-2023 will be allotted ranks.
The candidates who obtained rank in NIMCET 2023 only shall be eligible for admission to MCA program in the participating institutes
Exam Pattern
Mode of Exam – Offline mode
Type of Questions – Multiple Choice Based Questions (MCQs)
Duration of Exam – 2 hours
Language – English only
Total Questions – 120 MCQs
Marking Scheme – Each question carries 4 Marks. There is a negative marking of 1 Mark.
Distribution of Question Paper

Mathematics – 50 Questions
Analytical Ability & Logical Reasoning – 40 Questions
Computer Awareness- 10 Questions
General English – 20 Questions
Total- 120 Questions
Test Pattern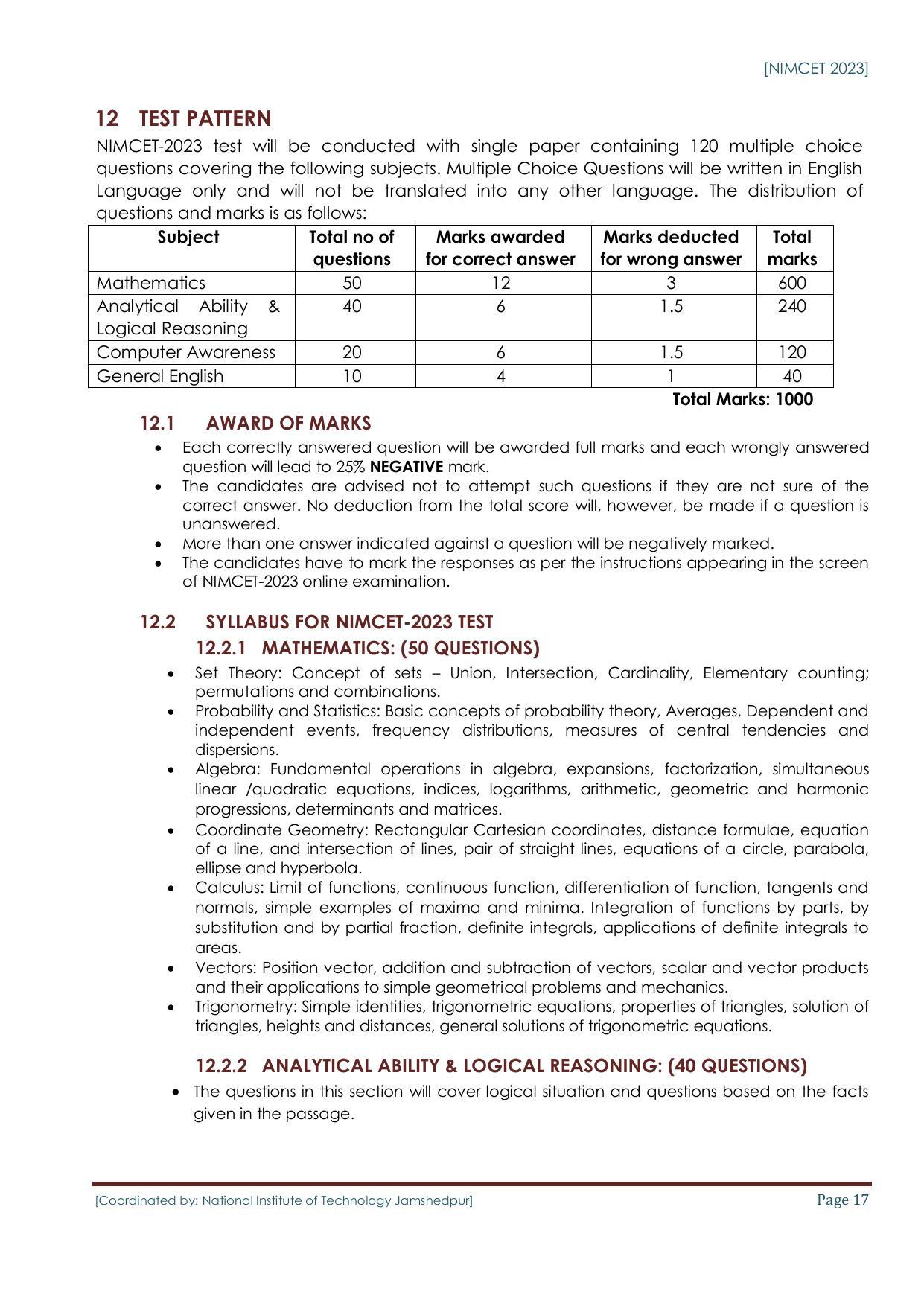 Exam Centres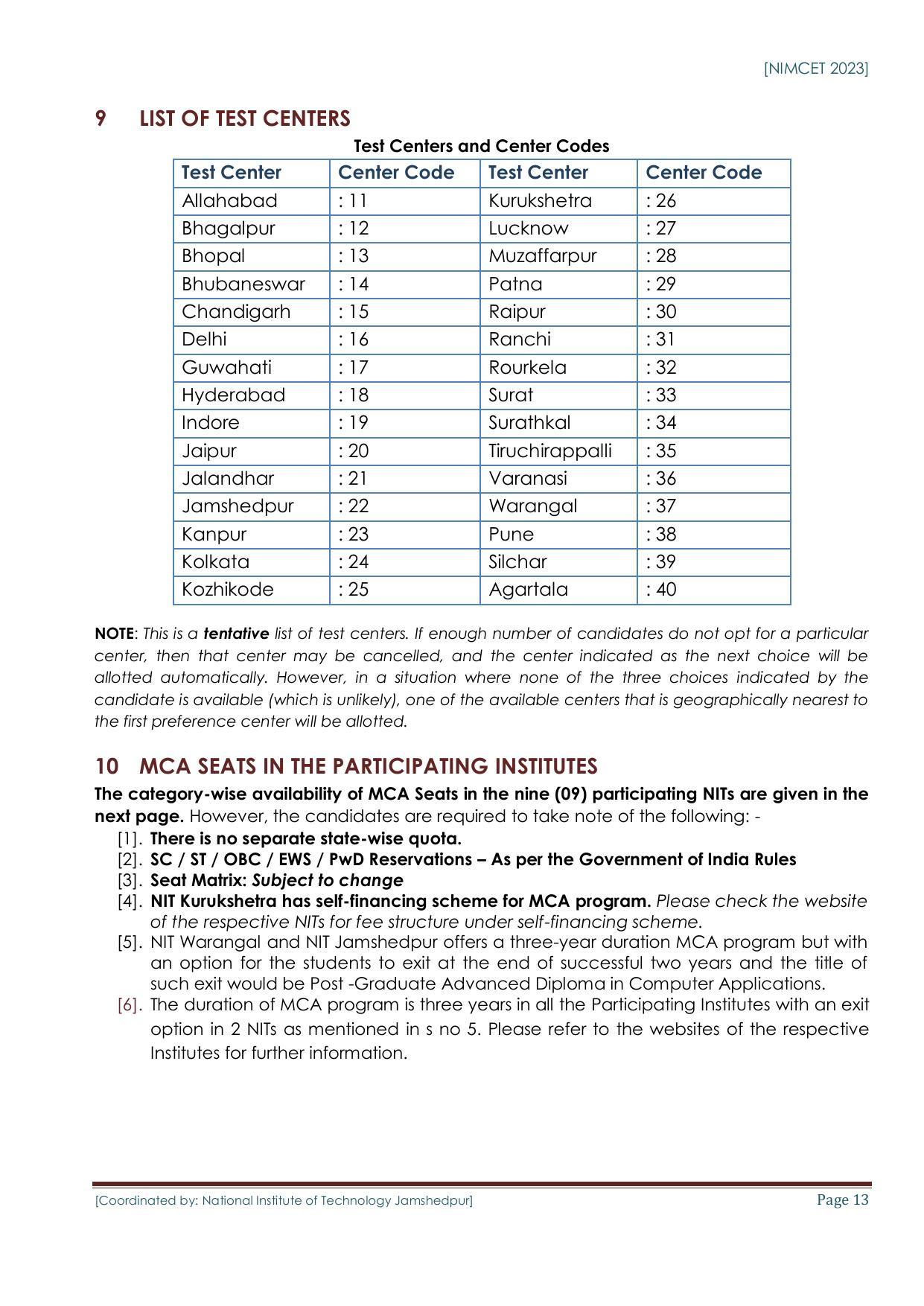 Question Papers
Click here for NIMCET Previous Year Question Papers
Syllabus
Mathematics: (50 questions)
Set Theory: Concept of sets – Union, Intersection, Cardinality, Elementary counting; permutations and combinations.
Probability and Statistics: Basic concepts of probability theory, Averages, Dependent and independent events, frequency distributions, measures of central tendencies and dispersions.
Algebra: Fundamental operations in algebra, expansions, factorization, simultaneous linear / quadratic equations, indices, logarithms, arithmetic, geometric and harmonic progressions, determinants and matrices.
Coordinate Geometry: Rectangular Cartesian coordinates, distance formulae, equation of a line, and intersection of lines, pair of straight lines, equations of a circle, parabola, ellipse, and hyperbola.
Calculus: Limit of functions, continuous function, differentiation of function, tangents and normals, simple examples of maxima and minima. Integration of functions by parts, by substitution and by partial fraction, definite integrals, applications of definite integrals to areas.
Vectors: Position vector, addition and subtraction of vectors, scalar and vector products and their applications to simple geometrical problems and mechanics.
Trigonometry: Simple identities, trigonometric equations properties of triangles, solution of triangles, heights and distances, general solutions of trigonometric equations.
Analytical Ability and Logical Reasoning: (40 questions)
The questions in this section will cover logical situation and questions based on the facts given in the passage.
Computer Awareness: (10 questions)
Computer Basics: Organization of a computer, Central Processing Unit (CPU), structure of instructions in CPU, input/output devices, computer memory, and back-up devices.
Data Representation: Representation of characters, integers and fractions, binary and hexadecimal representations, binary arithmetic: addition, subtraction, multiplication, division, simple arithmetic and two's complement arithmetic, floating point representation of numbers, Boolean algebra, truth tables, Venn diagrams.
General English: (20 questions)
Questions in this section will be designed to test the candidates' general understanding of the English language. There will be questions on the following topics:
Comprehension, vocabulary, Basic English Grammar (like usage of correct forms of verbs, prepositions and articles), word power, synonyms and antonyms, meaning of words and phrases, technical writing.
Admit Card / Hall Ticket
For all eligible applicants, Admit Cards will be made available on the website, https://www.nimcet.in. No physical scrutiny of documents is carried out and the particulars filled by applicant is taken as it is. Any detail found wrong at later stage will lead to cancellation of application and such candidates shall be debarred from admission process. The applicants can download their Admit Card after logging in to this website between 01/06/2023 (Thursday) to 11/06/2023 (Sunday). See section 3 (2). The candidates shall have to produce the Admit Card at the Test Centre, Counselling Centre / Remote Reporting Center and the Participating Institute at appropriate time. Therefore, the candidates are advised to keep their Admit Card in safe custody. Admit Cards will not be sent to the candidates individually by post.
Cutoff
NIMCET abbreviated as National Institute of Technology MCA Common Entrance Test. Every year this entrance exam conducted by National Institute of Technology, Agartala for admission into various Master of Computer Application (MCA) courses. Through this test, candidates can get an admission in NITs at Agartala, Allahabad, Bhopal, Calicut, Durgapur, Jamshedpur, Kurukshetra, Raipur, Surathkal, Tiruchirapalli and Warangal. In the Last Week of May 2023 NIMCET Exam successfully organized. The exam conducting authority will declare the NIT MCA Entrance Test Cutoff Marks in the month of June 2023 . You can get cut off Ranks Institute wise, category wise from its official website.
Results
Candidates who appeared for Exam can check their NIMCET Entrance Test Results online at Official Website. Declaration of NIMCET Result followed by three rounds of Counselling and seat allocation rounds. Those Participants can check the NIMCET Rank Cards and cut off marks using the Official Website.
Counselling
NIT is going to organize NIMCET counseling for candidates who qualifies the entrance examination. Students who want to get admission in MCA for various institutions must attend the counseling in scheduled dates. Below we have obtained the NIMCET Counselling Schedule and seat allotment dates. Seats will be in three phases they are 1st, 2nd and 3rd round of seat allocation. In order to attend the counseling, you must carry the relevant documents. Counseling will start from Monday, 26/06/2023 (5 pm). To get more information related to NIMCET Counselling, please go through official website.
Documents Required for NIMCET Counselling:
NIMCET rank card/hall ticket.
Personality certifications.
Marks sheet of Admission.
Certification of Course Higher Second/ College graduation.
Medical Health and fitness Certification.
Residence of official deal with.
Classification certificates for SC/ ST/ OBC.
Income certifications have to show financially weak candidates.
1 to 6 colored photos (key dimension).
Accepting Colleges
The admission to MCA programme offered by all the NITs that participate in NIMCET is based on the rank obtained in the NIMCET.
List of NIT's
NIT Agartala
MNNIT Allahabad
MANIT Bhopal
NIT Calicut
NIT Durgapur
MNIT Suratkal
NIT Jamshedpur
NIT Kurukshetra
NIT Raipur
NIT Tiruchirappalli
NIT Warangal
For more details and to apply online, please visit the official website
Contact Details
NIT Common Entrance Test (NIMCET)
Chairman, NIMCET09
Nehru National Institute of Technology
Phones : (+91) (0532) 2545284
Fax : (+91) (0532) 2545285
Emails : [email protected]
http://nimcet.in/